Arvorians are an ancient humanoid race that were around from before the age of Blackmoor. They are nearly always chaotic in alignment and worship dark powers from beyond the known ranks of the "normal" Immortals.
As Non Player Characters
There are 2 classes of Arvorians, the Eldritch Crusaders and the Arcane Knights. Both can use any armour, shield and weapon as a fighter, but while the Crusaders cast spells from the clerical list, the Arcane Knights cast spells from the Magic User list. Thus the Arcane Knights are similar to elves in their combat abilities (fighter/magic users in AD&D terms) while the Eldritch Crusaders are closer to AD&D fighter/clerics. The table below applies to both Arvorian classes although for the Crusaders the column for 8th level spells should be ignored (cleric spells only go up to 7th level). As they are intended as NPCs, no XP requirements are given (though the XP progression for elves would be suitable for the first 10 levels).
All Arvorians have infravision to 60'. They can all Read Magic at will as if it were a natural language and Detect Magic once per turn.
Unlike other editions of D&D, B/X does not have racial adjustments to ability scores. But if they are used, Arvorians would get +2 to Intelligence but -2 to Constitution. They are an extremely clever and magically talented race, but they are decadent and their bodies are not as robust as those of younger races.
Eldritch Crusaders can use any magic item that either fighters or clerics can use, while Arcane Knights can use any magic item that a fighter or a magic user can use.
Appearance
Arvorians are slim like elves and pale, often to the point of albinism. They have very pale, often white skin and pale blonde or white hair, and pink or blue eyes. They have almost no facial or body hair. They appear ageless, and can live for up to 500 years. They are often very vain, and want to look good, even when bringing chaos and destruction. Arvorians are from a decadent civilization and always dress well. Even their armour looks elegant.
Culture and History
Arvorians worship entities from beyond normal time and space that are quite different from the known Immortals of Mystara known as the Great Old Ones. The Great Old Ones are inscrutable, with inhuman, incomprehensible motives - some Arvorians have theorised that while some Immortals drawn on the Sphere of Entropy, the Great Old Ones are born of it. But they sent certain servants to Mystara to act as intermediaries to deal with these curious, upstart mortal arvorians. These servants were known as Scions of the Outer Dark, and although they were as alien as their Great Old One masters these scions could communicate with and grant assistance to their Arvorian followers. These Scions of the Outer Dark often took physical form as avatars - some appeared as Arvorians, hiding their true natures, while other scions were far less discrete and their appearance is the stuff of nightmares even for those who have faced liches and beholders. It is said that the avatar of E'hillit could drive a mortal to insanity at a glance, and although it could have taken a less shocking form, it did not care to.
Arvorians have been around for millennia and were contemporaries of Blackmoor when it was at the height of its technological power and splendour. But the attitudes of the two civilizations were very different and there was an intense rivalry that bordered on hatred. This was partly because of their different sources of power - the Blackmoorians used a combination of magic and technology, while the Arvorians worshipped and were assisted by things of ineffable darkness and horror.
A century before the cataclysm a strike force of powerful wizards, clerics and fighters from Blackmoor equipped with the greatest technological weapons magically travelled to Arvoria and in a series of battles they imprisoned the Scions of the Outer Darkness in dimensions beyond normal time and space. The Arvorians were filled with outrage but were powerless to retaliate.
When the Great Rain of Fire struck Blackmoor in 3000BC, Arvoria was severely damaged but not entirely destroyed. The axis of Mystara shifted and Arvoria, which had previously enjoyed a temperate climate, suddenly found the weather getting much colder. What was the nation of Arvoria is now the Norwold region of Brun. The Arvorians blamed the Blackmoorians for this global disaster. Since the Blackmoorians themselves were destroyed, the Arvorians turned to surviving humans and demihumans for vengeance.
These days the Arvorians live in underground cities and dungeons beneath the surface of Norwold. They are a long-lived, patient race and they know how to pass strategies and long-term plans from one generation to the next. Their overall plan is to open up the dimensional prisons that hold their alien masters and allow the Scions of the Outer Dark to roam free on Mystara. The Scions may be imprisoned but they can still communicate in dreams and can still grant clerical spells to Arvorian Eldritch Crusaders. The Arvorians are convinced that when they have freed the Scions of the Outer Dark they will forge a new Arvorian Empire through blood and magic that will push aside all the other mortal races, including the hated humans. Then they will have their long-awaited vengeance and become the ultimate civilization on Mystara. Whether the Scions of the Outer Dark intend to stick to this plan is another matter.
There are also some Arvorians who have ascended to immortality, usually sponsored by a Great Old One based on a Scion's recommendation. Such Arvorian immortals are nearly always Chaotic (and hence Chaos Princes) and draw on the Sphere of Entropy. These offer a more relatable and understandable patron than the Scions of the Outer Dark who were never mortal and are often utterly alien in thought, deed and appearance.
Arvorians are contemptuous of other races. Nonetheless they can still find uses for them, particularly chaotic humanoids such as orcs, goblins and gnolls. As such these tribal humanoids are often found as the bottom caste of Arvorian society, acting as footsoldiers, servants and menial labour. Chaotic humans have their uses as well, and the Arvorians will often encourage the Cult of Chaos as a useful pool of servants and allies, though they view the cultists as far beneath them and utterly expendable, barely better than the orcs and gnolls.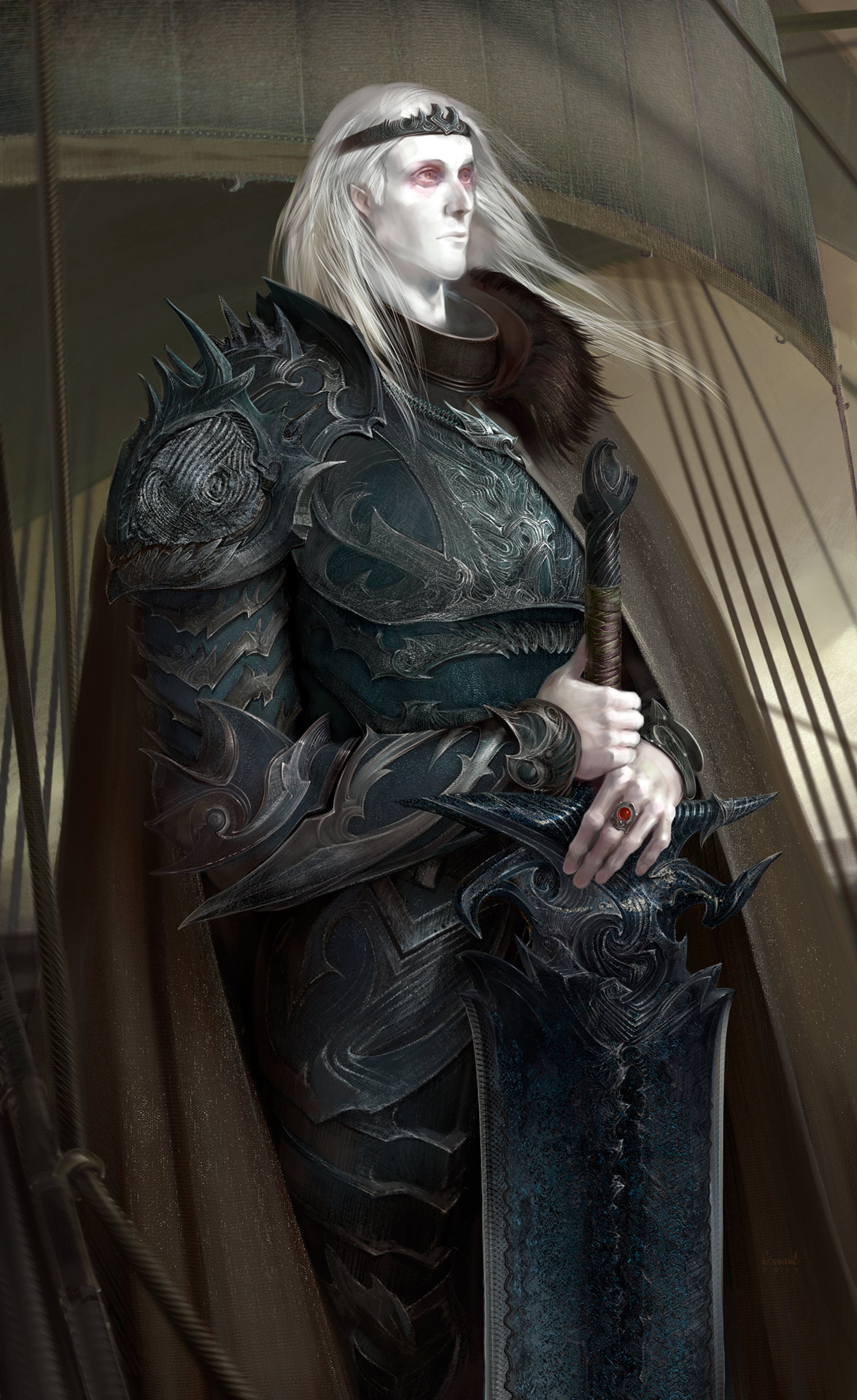 Image by Alexandr Komarov, source